Catering for Your Private Party or Event in San Jose or the Greater Bay Area
Let Tony make your private banquet, luncheon, or reception truly memorable with personalized catering in San Jose, California, and all around the San Francisco Bay.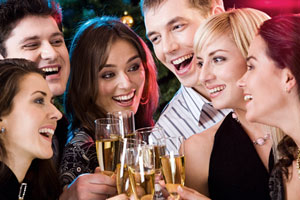 No social event is complete without food. What can Tony serve you and your guests at your next private party?
An assortment of savory party bites for a cocktail party at home?
From-scratch bakery items and a build-your-own oatmeal bar for a birthday breakfast?
Creamy soup and seasonal salad for a lovely luncheon in the garden?
How about a private dream-date dinner in your own home, just for two?
Or finger-lickin'-good chicken wings and barbeque for the big game?
From party platters for forty to a delightful dinner and dessert for four hundred, Tony plans, prepares, delivers, and serves a custom menu for your private event, the way you want it.
Fantastic Fare
First and foremost, there's the food, of course.
Work with Tony to develop your own custom menu for your private get-together or gala, or order from his popular selections of from-scratch party menus, carving stations, entrees and desserts.
Each dish is prepared to order and with care, creatively arranged in an attractive presentation sure to please you and your guests. Tony Caters uses the freshest ingredients in preparing your food, so that each bite is truly a delight.
Superior Service
While Tony Caters certainly delivers if you just want drop-off catering for your private party, Tony and his team of food service professionals naturally can also serve you and your guests. That way you don't need to worry about refilling glasses or trays. Tony will see to it that everyone is attended to, leaving you just to enjoy your own event!
You also don't need to concern yourself with serving trays, chafing dishes, coffee urns, or quite frankly even plates, glasses and utensils if you need them. And the best part? You don't have to clean up either! Just let Tony know what you envision and he can provide everything you need to make your affair a true success.
Private Event Planning
Make it simple and let Tony Caters not only cater and serve your soiree or celebration, but also plan and orchestrate the entire event!
Just tell Tony what you want and he'll make it happen, arranging and managing all the details, including theming, venue, decorations, music, activities, and of course the feast. All you have to do is show up and socialize — and eat!
Talk to Tony about Tony Caters being your catering and event-planning company. Call him at (408) 263-4366 or contact him now for your upcoming social function.