The Tech Museum of Innovation
Venue: The Tech Museum of Innovation
Imagine your next catered event on the extraordinary rooftop terrace of The Tech Museum.
Impress your guests with a classy corporate reception — or craft cocktails and heavy hors d'oeuvres in the evening to celebrate a new product launch before the sun goes down over one of downtown San Jose's most spectacular views of the city.
Or let Tony take care of catering your fundraising gala in the museum's Silicon Valley Innovation Gallery, feeding lunch to your hungry team during a day of corporate team-building, or helping you host that holiday party for hundreds in New Venture Hall.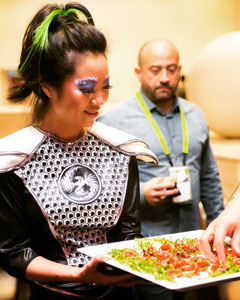 If you know what you'd like to host in this unique Bay-area setting, or if you need more ideas, just contact Tony today at (408) 263-4366 to get the ball rolling!
Tony Caters also presents The Tech Cafe, located in The Tech Museum, although you don't need to go in the museum to enjoy one of Tony's filling deli lunches there. See The Tech Cafe menu here.