Corporate Catering to Your San Jose, South Bay, or San Francisco Office
Tony Caters specializes in full-service corporate catering services in San Jose and the greater Bay area.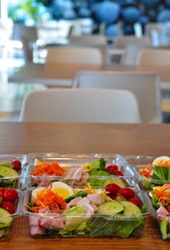 Need a continental breakfast spread for that morning board meeting? A deli tray or from-scratch hot entree delivered to the office for lunch? Finger food for the conference that's lasting longer than the workday? Or the whole multi-course banquet for your most valued clients?
Whatever your corporate event, Tony Caters knows you want first-class cuisine and superior service for your business. And you just want to order and know that it's done — and done right.
Tony delivers not only the food for your special events, but quality, planning, and exceptional service.
Fabulous Food
Whether you work with Tony to develop your custom menu, or pick from some of Tony's classics for straight-forward corporate lunch catering, Tony and his team prepare your fare with the freshest ingredients and creative care.
Order your savory sandwiches for delivery only, or have Tony Caters serve you a feast in style at your chosen venue.
Stellar Service
Sit back and let Tony show you what full-service catering really means!
He'll set up the chafing dishes, the serving trays, the silverware, the tables. He and his professional servers will serve you and your business guests from behind the buffet, or wait on you just like in a restaurant. And when your corporate event is done, of course they'll clean up.
No plates to stack. No dishes to wash. You don't even have to refill the coffee.
Expert Event Planning
Do you need tables and chairs too? What about table decorations? A band? A DJ? A dance floor? Carnival games for a family-inclusive event? Or maybe a venue with a fire-pit for that company pig roast?
Tony not only caters; he will plan, arrange, and execute every detail of your company picnic, executive cocktail party, or team-building event. All you have to do is show up and enjoy!
So consider Tony your go-to corporate caterer in San Jose and the San Francisco Bay area. Call him at (408) 263-4366 or write him today to realize your custom solution!